Biola Lacrosse in Las Vegas, NV (4)
Friday, March 14, 2003
photos by Josh Bouck, John Tiffin, and Adam Weitz
PAGE: 1 - 2 - 3 - (4) - 5 - 6 - 2003 Photos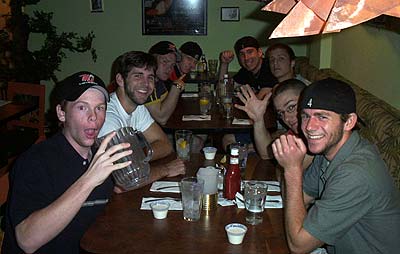 So, after search for an open restaurant we stumbled upon Hamburger Mary's. Little did we know what we were getting ourselves into.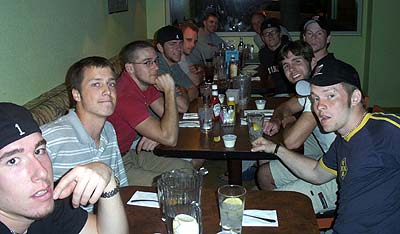 Hamburger Mary's is not so much a gay bar as it is a "people tolerant" bar.
Sean, Dave, and Stitch do the Charlie's Angels pose. Ironically, we still did not know what kind of restaurant we were in at this point.
After going to the bathroom, Sean decides that it is time to leave because he thinks he's the boss of everything. The next day UNLV teammates would inform us as to the where we ate dinner on this night.
PAGE: 1 - 2 - 3 - (4) - 5 - 6 - 2003 Photos