by Joel Buckhout
2/1/03 - The Biola Lacrosse team suffered a bitter loss in their first game of the 2003 season today against Claremont College, 18-2. After getting a late start due to some discrepency over which field the game was to be played on, the Eagles took the field. Opening with strong play on both sides of the ball, Biola's defense held the explosive Claremont offense to just three goals in the first quarter.
Then, as the second quarter opened Claremont broke the game wide open. Though Biola's team captain, Sean Connally, found rope after an airtight pass from Freshman middie, Josh Bouck, late in the half, the team would never recover from the overpowering quickness and efficency of the Claremont fast break.
After half time, however, the Eagles regained their composure holding Claremont to just six goals in the entire second half but the damage had already been done. The fire was still evident in Freshman attackman Josh Agadoni when he gunned one past the stunned Claremont golie with a sharp assist from Senior attackman David Crandall midway through the fourth quarter.
Freshman Jake Walkowski played a solid game on both defense and long stick middie after picking up a long pole for the first time just three days before "hell week" practice.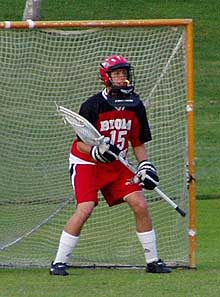 Freshman Goalie Tim Mann played well in the goal with 14 saves and giving up just 18 goals.
Photo by E.M. Connally
Frosh goalie Tim Mann also showed his true grit throughout the entire game with a better then 43% save average.
"Guys, please get open on the clears. Don't just wave your stick at me...it's annoying," said Mann to the defense at halftime.
Most importantly, the Biola men showed their good sportsmanship and grace to the Claremont team from whistle to whistle in spite of the score. Though the Biola men lost they were never defeated. Glory and thanks be to God.
NEW! Pictures>>>>>>>>>>>>