3/15/03 - Biola split a double-header Saturday, beating Western State College (Colorado) Mountaineers, 11-10 in OT, and falling to the University Nevada in Las Vegas Rebels, 12-11.
Senior Dave Crandall led the scoring with 4 goals and 1 assist against Western State College. Senior Sean Connally had 3 goals and Freshman Josh Agadoni had 2 goals and 2 assists. Senior Ryan Agadoni and Junior Stitch Buckhout had one goal each and Freshmen Duncan Campbell and Josh Bouck had 1 assist each.
Against UNLV Crandall led the scoring again with 4 goals and 1 assist. Connally had 3 goals and Campbell had 2 goals. Tiffin and Freshman Jacob Walkowski had 1 goal each. Bouck had 2 assists. Ryan Agadoni and Freshman Chris Williams had 1 assists each.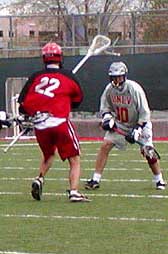 Freshman Jacob Walkowski scores his first goal of the season against UNLV on Saturday.
Photo by Ray Walkowski