3/29/03 - Biola comes from a two goal deficit to defeat the Occidental Tigers, 6-4. The Eagles defense kept the Tigers from scoring in the second half and Man-down successfully killed 6 minutes of penalties.
The Tigers come out hard scoring three goals in the first 8 minutes of the game but did not score again until two minute till half time.
Meanwhile, the Eagles scored goals from Freshman Tad Matsuoka and Junior Daniel Schmidt to cut the Oxy lead in half.
The Eagles came out firing in the second half, sparked by Senior Dave Crandall who missed the first half with an injury. His goal from Freshman Chris Williams was followed by goals from Freshman Duncan Campbell and Josh Agadoni. With the Eagles ahead 5-4, Crandall sealed the victory with a goal in the fourth quarter.
But the offense could not have done it without the help of the defense. Freshman Goalie Tim Mann had some key saves finishing the day with 9 saves and 4 goals allowed. Senior Josh Smith and Freshmen Jacob Walkowski, Adam Weitz and Aaron Klett held a usually very productive Occidental attack to three goals.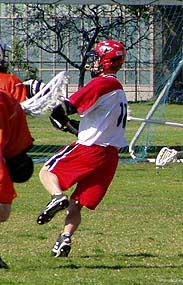 After a one year drought, Daniel Schmidt scores his first goal of this season.
Photo by E.M. Connally