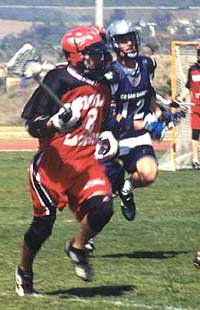 Sophomore Joel Buckhout played an awesome game filling in for the absent Senior Jamin Reynolds. (Photo by E.M. Connally)
3/9/02 - All the year's hard work and perseverance came to a head as the Eagles outlasted the Cal State University San Marcos Cougars, 14-13. Biola took a quick 3 goal lead in the first quarter only to find themselves tied in the second. Afterwards, the lead seesawed the entire game until Senior Robb Henshaw found Junior Dave Crandall who scored the go-ahead goal with 1:45 left in the game. Crandall finished the game with 5 goals.
Other scoring came from Junior Sean Connally who had 5 goals and 2 assists. Sophomore John LaDue had 2 goals. Senior Robb Henshaw had 1 goal and 1 assist. Junior Jason Bonilla had 1 goal. Freshman Dave Caminiti had 2 assists while Freshman Robert Morse earned his first career assist.